Volunteer with us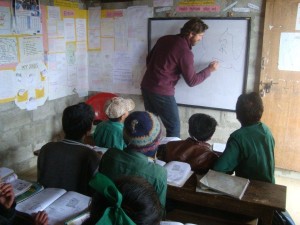 If you do enjoy immersing yourself in culture, can provide some skills and have a penchant to do something to enrich the lives of others, then maybe you should think about doing some volunteer work for HHCP Nepal!!
Opportunities are available for:
English teachers
Medical field—doctors, nurses
Dental field– dentist, dental hygienist
Physiotherapists
Occupational Therapists
Naturopathy
Ayurvedic massage
For further inquiries please contact Harikrishna or Apply to Volunteer
If you want others to be happy, practice compassion.
If you want to be happy, practice compassion.
                 – Dalai Lama
Latest news on this topic
Posted on April 27, 2016 by HHCP Nepal

Everyone benefits when a volunteer arrives to offer their services and skills. Claire Davies of Australia is the latest volunteer to offer her services to Nepal. She arrived in Nepal 4 weeks ago and has been helping Harikrishna with admin services in Kathmandu, has visited the HHCP villages and will possibly head back to the […]

Comments Off

on Meet the latest volunteer, Claire Davies

Continue Reading...