School Building and Support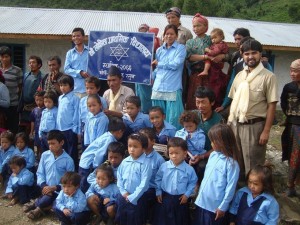 Help HHCP Nepal rebuild earthquake resistant schools in the Rasuwa District and Langtang Region!!
Prior to the earthquakes that rocked Nepal in April of 2015 there was an education revolution happening in the remote district of Rasuwa.
Owing to HHCP Nepal pressure placed on the Nepal Government and also with the generosity of overseas donors, in the last 3-4 years schools were built and staffed in the remote Himalaya's with thousands of children attending these schools. Quantam proof that these desperately poor and illiterate people of the remote Himalayas would like to escape their cycle of poverty starting with the education of their children!!
After the earthquake, life across Nepal ground to a halt, including schooling. With almost all of the schools in the District now knocked to the ground, the vast majority of these children are still no longer attending any form of education.
The alternate facilities that have been provided are extremely inadequate for the needs of the students. Schools that previously had up to 450 students attending had been provided post earthquake with just 1-2 large tents. Some schools have sought more medium term solutions with the Ghormu community building a temporary learning centre made of corrugated iron. This school now has over 100 students attending daily in these makeshift facilities.
How can you help?
We need your help to rebuild damaged schools in the Rasuwa District using new earthquake resistant designs. Our construction estimate is approximately $USD30,000 per primary school and $USD60,000 for a high school, and HHCP Nepal plans on rebuilding these schools one school at a time.
As the schools are re-built, the next step for these schools is to then build/purchase adequate learning resources for students and staff.
Please donate today to ensure a future with brighter prospects for the children of remote Nepal.
If you would like to make further enquiries as to how you could personally support  remote Himalayan schools and students please email Harikrishna via our contact page.
Latest news on this topic
Posted on April 27, 2016 by HHCP Nepal

Short term plan for HHCP Nepal is to re-build Ghormu School. The medium term plan is the build of a new boarding school. This boarding school will enable the rural orphans to have permanent lodging with suitable care whilst receiving an education. This school would also be able to provide an education for many of […]

Comments Off

on School Projects Update October 2016

Continue Reading...