Greenhouses – Gifted Gardens
Gifted greenhouses are able to provide the poorest families with a small ongoing income stream within months.
In January of 2016 the HHCP Nepal greenhouse project was born with 300 of the poorest rural Nepali families in Rasuwa receiving 10000NPR to purchase bamboo framework, plastic roofing, a 500 litre water tank and water piping to constr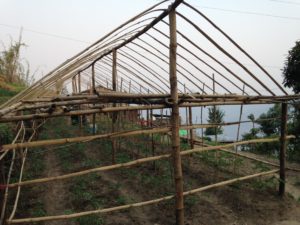 uct greenhouses.
These families are now generating a small income producing 5-10kg of tomatoes daily which they sell to wholesalers.
The added bonus is they are also planting differing vegetables for themselves which will benefit in aiding their malnutrition providing the families with a broader balance of daily dietary requirements.
Latest news on this topic
Posted on October 6, 2016 by HHCP Nepal

Gifted greenhouses are able to provide the poorest families with a small ongoing income stream within months. In January of 2016 the HHCP Nepal greenhouse project was born with 300 of the poorest rural Nepali families in Rasuwa receiving 10000NPR to purchase bamboo framework, plastic roofing, a 500 litre water tank and water piping to […]

Comments Off

on Greenhouses-Gifted gardens

Continue Reading...